Compliance Jobs Report: Mar. 6
Another big Compliance Jobs Report this week. The CCO of Daimler is shipping out to China; promotions at Sotheby's, Bayer, and Heineken; new hires at Baxter, Ingersoll-Rand, PNC, and elsewhere. We have job openings from Atlanta to Denver to Silicon Valley, a CCO in banking hanging out his own shingle, and lots more news. 
I gather these bits of information from LinkedIn, news alerts, and friends emailing me something to include. If you have a tip to pass along, email me at [email protected] or find me on LinkedIn. This report depends on people' like you helping me, so send some news! Read on… 
Compliance Jobs News
We begin at German auto giant Daimler, which is sending chief compliance officer Olaf Schick to be head of finance and control for Daimler's China operations, starting July 1. Schick has been Daimler's CCO since 2017. He's moving to China as part of a larger executive reshuffle. No word from the company yet on who succeeds Schick in the compliance officer role. 
Auction house Sotheby's has promoted Cecilia Fletcher to be worldwide head of compliance and integrity. Fletcher had previously been regional head of compliance for Europe, Middle East, Russia, and India; and has been in several compliance roles at Sotheby's since 2011. 
Elizabeth Jobes has a new job as global chief compliance officer for Amryt Pharmaceuticals, a commercial-stage pharma company based in Boston. Jobes comes to Amryt from EMD Serono, where she had been chief compliance officer for a year; some of you might also know her from her CCO days at Spark Therapeutics or Auxilium Pharmaceuticals. 
Brokerage house Charles Scwab just picked up Ricardo Rivera as a senior manager for international supervisory risk management, down in Orlando. Rivera had previously worked at Citi for two years as an audit manager working on the bank's stress tests. 
In Chicago, Christine Watzke Ulbert has joined Baxter International as senior manager for ethics and compliance monitoring. Ulbert comes to Baxter from AkzoNobel, where she had been the Dutch company's compliance officer for the Americas region. 
A promotion for Kerr Morton at Heineken Co., from head of internal audit to head of assurance, risk management, and compliance. Morton works out of Edinburgh, Scotland. Been with Heineken for six years. 
Diginex, a blockchain startup in Singapore, has named Vicki Tan head of compliance. Tan joins Diginex from financial firm DNB ASA, where she had been in charge of compliance for the Asia region. She's also held compliance roles at RBS, Credit Suisse, JP Morgan, and elsewhere. 
Hector Garcia Corredor has a new role at Bayer, as head of a new legal and compliance center of excellence for Latin America. Corredor had previously overseen legal and compliance for Venezuela, Colombia, Ecuador, and Peru. He's based in Colombia, and has been with Bayer in various roles for nine years.  
Anastasia Savvateeva has been named senior compliance officer at the Pictet Group, a Swiss financial services firm. Savvateeva previously worked at Deutsche Bank as an anti-money laundering compliance officer. Based in Luxembourg.
Rose Chapman has joined the British Virgin Islands Financial Services Commission as a compliance and anti-money laundering program manager. She was previously head of global ethics and compliance at Travelport, and now works in Tortola in the Virgin Islands, so I'm envious. 
In Milwaukee, Wisc., Ingersoll Rand (they make specialty vehicles) has named Robert Mayfield director of global compliance. Mayfield comes to Ingersoll from Gardner Denver (I don't know what they make), where he held various compliance roles — for 14 years! Best of luck in the new gig. 
From higher ed, Washington State University has named Sharyl Kammerzell its new chief compliance and risk officer. This is actually a promotion for Kammerzell, who has been WSU's director of global services, risk, and compliance for the school's Office of International Programs. This will also be WSU's first enterprise-wide risk and compliance program. Kammerzell's new role starts April 20. 
Henrik Haldeborg has joined PNC Bank's compliance function as a senior associate for detection and investigation. Haldeborg comes to PNC from KeyBank, where he had been a compliance analyst for three years — and yes, Haldeborg is a Cleveland Browns fan working for a Pittsburgh company. Now that's commitment to open-minded hiring.
Bianca Buys has been promoted at Standard Bank Group in South Africa, from senior compliance officer for global markets to head of the regulatory advisory group. Buys has been with Standard Bank since 2017. 
Penn National Gaming has hired Chris Soriano as chief compliance officer. Penn National has been expanding into sports betting (it already operates casinos and racetracks) and picked up Soriano from law firm Duane Morris, where he worked in gambling law. Always split 10s and never bet on Buffalo to cover the spread, people.
Bank of Hawaii has promoted Lacey Nakaguma from senior audit manager to chief audit executive. She succeeds Kristi Lefforge, now head of the bank's trust services group. 
And Capital Bank, a community bank in Maryland, has named Gary Kausmeyer chief risk officer. He succeeds Kathy Curtis, who is retiring in May. Kausmeyer was last seen at Banc of California, where he was deputy risk officer until last April. 
Milestones
Christina House is celebrating one year as senior manager of global ethics and compliance for Spirit AeroSystems. 
Vendors & Service Providers
Eric Young has left BNP Paribas, where he had been chief compliance officers of the Americas since 2015, to hang his own shingle as an ethics and compliance consultant. Name of the new company is Young Enterprises — I like it.
Attention users of Audit Board software around the Boston area: Jamison Tomasek, internal audit manager at Mercury Systems, is trying to get a local user group off the ground. Track him down on LinkedIn if you're interested. 
Open Req Orders
Assurant is looking for a compliance investigations manager. Job can be based in Chicago, Atlanta, or Miami. (I know my preference.)
Service Now is looking for a program manager for sales and partner compliance. Job is based in Silicon Valley. 
Rocky Mountain Human Services is seeking a contracts compliance auditor. Job is based in Denver. 
Meme of the Week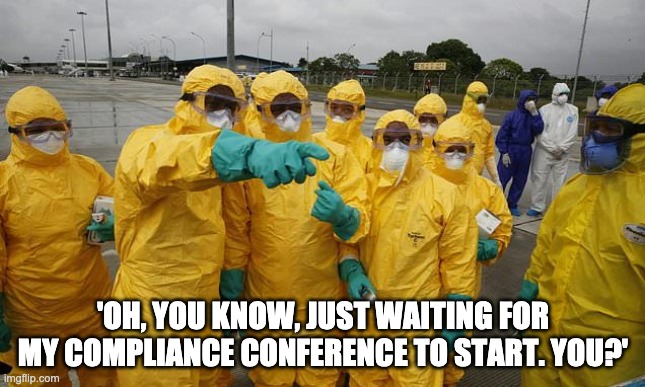 That's all for this week. As always — if you have a tip or want to brag about your new job, promotion, career milestone, or anything else, email me at [email protected] or find me on LinkedIn. I'm always happy to give credit to the many hard-working people here in our corner of the business universe.