SCCE Conference Going Virtual
Surprising precisely nobody, the Society of Corporate Compliance & Ethics confirmed on Tuesday that its 2020 annual conference will go virtual — a long-expected, disappointing, and totally appropriate move. 
SCCE sent word via email to scheduled conference speakers Tuesday evening, including to me, which is how I heard the news. The conference website also already reflects the move to virtual status. 
The conference itself, the 19th Annual Compliance & Ethics Institute, will still happen Sept. 14-16. 
CEI had been planned to happen in Dallas this year, and under normal circumstances would have drawn its usual 1,800 to 2,000 compliance professionals from around the world. Typically CEI is the single largest gathering of compliance officers in the world in any given year. 
Alas, Covid-19 made that outcome impossible. So like every other compliance industry event this year, the conference has gone virtual. That sucks, because the SCCE conference is always a great opportunity to learn and to meet friends in the compliance field — but it's also the right call to make. 
Nor is this decision a surprise, because several local SCCE conferences happening later in the year had already moved to virtual format. Plus, anyone with a brain could see that Texas will be a coronavirus hotbed for months; and many corporations have banned employees from attending large events anyway. So the writing had been on the wall for many weeks, really.
This also means the CEI agenda might change somewhat. For example, some speakers might have presentations that don't translate from physical presence to virtual setting; or others might not be able to participate virtually for other reasons. Stay tuned to the CEI conference website to see the latest agenda, although I have no doubt that whatever that final agenda may be, it will still be worth your time. 
Where Do We Go From Here
The next major conference for risk assurance professionals that is still planned as a live event is the Institute of Internal Auditing's 2020 global conference, currently scheduled for Nov. 2-4 in Miami. 
That conference had originally been planned for July in Florida, and was postponed until November. I hope the IIA can succeed, but considering that Miami is suffering one of the worst Covid-19 outbreaks the United States has seen, I have many doubts. (The IIA conference is already planning to livestream all its sessions no matter what happens with the Miami location.)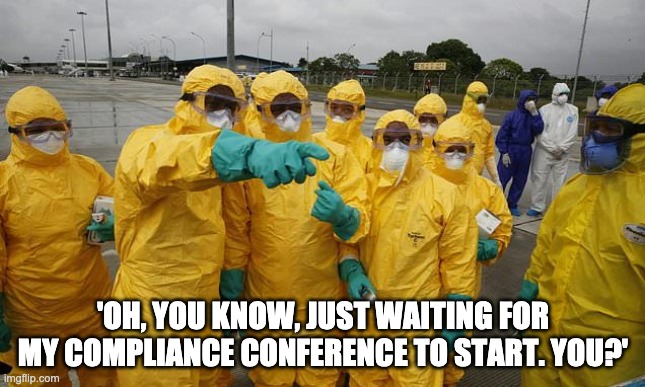 SCCE does have some local conferences still scheduled as live events later this fall. The first ones are a conference in Columbus, Ohio on Nov. 6 and another in Seattle on Nov. 13. Here's hoping they succeed. 
Over the long term, compliance officers might also want to prepare for a fundamentally different world of conferences and continuing education credits. 
For example, when you shift from a live event to a virtual event, your fixed costs plummet by as much as 80 percent, because you don't need to pay for a venue, food, and so forth — but your revenues also plummet, because few compliance officers will pay significant money to attend a virtual event from their spare bedroom. 
So we could see more vendors offering virtual compliance events directly, because they don't need to make money from attendee sales. They'll let you attend at low cost or no cost, so long as they can capture your contact details. But conference organizers that specifically act as middle men between sponsor and attendee, and who do need to turn a profit — they could be in a tough spot. At the least, the economics of what they do will go haywire. 
Yet another reason to hope for a vaccine soon. Personally, I'm dying for another drink at the hotel bar with a bunch of compliance folks.