Compliance Jobs Report: Sept. 17
We have quite the international Compliance Jobs Report this week, with updates from Canada, Colombia, Dubai, Serbia, and elsewhere. Also new hires here in the United States at Wells Fargo, Meggitt, and more. Some cutting-edge tech companies are looking for chief compliance officers, and our Meme of the Week goes out to the Matrix.
As always, thank you to all the compliance people sending me tips and links to keep this report going. We need your help to make the Report work, so send me some news! If you have a tip to pass along, email me at [email protected] or find me on LinkedIn.
Compliance Jobs News
We begin this week with Haydee Olinger, the long-time chief compliance officer at McDonald's until she stepped down from that role in 2015. Olinger just joined the board of the ONE Group, a hospitality business and owner of the STK restaurant brand. Olinger also serves on the board of TransAct Technologies and works as a senior adviser for recruiting firm BarkerGilmore. More CCOs on boards!
CSI Leasing, which actually is a financial services firm, has promoted Marina Biro from director of internal audit to vice president of internal audit. Biro has been with the St. Louis business since 2016.
Beaumont Health, a hospital system in Michigan, has named Gina Arnett Thompson chief compliance officer; she'll join Beaumont in early October. Thompson comes to Beaumont from CommonSpirit Health in its MercyOne central Iowa market.
Wells Fargo has hired Aaron Pugh as director of operational risk for IT and information security. Pugh had previously been working at TCS e-Serve International, an IT outsourcing firm based in India, where he was head of risk management here in the United States. 
Meggitt, an aerospace and defense contractor based in San Diego, has hired Kelly Hubbard as senior export compliance manager. Hubbard joins Meggitt after more than three years at GKN Aerospace, where she had also been export compliance manager. 
Remember Jane Levine, chief global compliance counsel at Sotheby's from 2006 until 2019? She just turned up at fintech firm DailyPay ("on a mission to build a new financial system") as chief compliance officer. Not quite sure what Levine had been doing since she left Sotheby's, but she also teaches at Columbia Law School.
News from the sporting world: Kim Cole is retiring as chief compliance officer of the New Jersey State Interscholastic Athletic Association at the end of this year. She'll be succeeded by Paul Popadiuk, principal at Montgomery High School in Skillman, N.J.
OK, on to our international items for the week… 
In Canada, Scott Page has joined Ontario-based space technology firm MDA as director of internal audit. Page comes to MDA after four years as a solo internal audit consultant; prior to that he was head of internal audit at LifeLabs Medical, based in Toronto.
In Bulgaria, Yordan Ekzarov has joined Pfizer as compliance lead for Bulgaria and the Baltics. Ekzarov had previously been at Sanofi as compliance officer for Southeast and Central Europe.
Next door in Serbia, Marko Petrovic has joined Luxembourg investment firm APS as regional compliance officer. Petrovic comes to APS from Comtrade Group, a Serbian IT services firm, where he had been compliance officer for the last two years. 
In Colombia, Pepsico has promoted Marcela Cubillos Salcedo, from associate ethics and compliance manager to compliance manager, overseeing food business for the Andean region and beverages for all of Latin America. Salcedo has been with Pepsi for five years.
In Britain, Lucianne Mallmann is joining engineering firm Arcadis at the end of this month as compliance officer and senior legal counsel. Mallmann had been working at Gama Aviation since May as corporate compliance officer; prior to that she spent a few years as senior manager of ethics and compliance at Control Risks.
And Ayesha Jones just turned up in Dubai at Amgen, as head of legal for Africa and the Middle East. Jones had been working in Singapore for Takeda for the last two years, as director of ethics and compliance for emerging markets. 
Vendors & Service Providers
Amy Schuh has stepped down as chief compliance officer for Cognizant Technology Solutions, to return to law firm Morgan Lewis as a partner in its compliance and white-collar defense practice. Schuh had been CCO at Cognizant for four years, and previously worked at Merck and Hewlett-Packard. She also was an associate at Morgan Lewis back in the day.
Another week, another volley of news from GRC vendors announcing that now they offer ESG solutions, too. Archer has launched its Archer ESG solution; and MetricStream launched its own MetricStream ESGRC solution.  
Open Req Orders
Verily, a subsidiary of Google working on healthcare data and life sciences, is searching for a chief compliance officer. Job is based in San Francisco.
Facebook's financial services subsidiary, cryptically known as F2, is looking for a chief compliance officer. Job is based in Menlo Park, Calif.
And insurance giant Assurant is looking for a manager of ethics and compliance investigations. Assurant itself is headquartered in Atlanta, but this job can be anywhere — "just be close to an airport," I'm told. 
Compliance Meme of the Week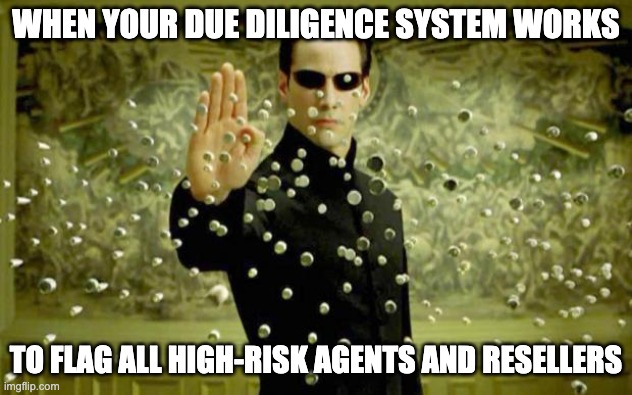 That's all for this week's report.
As always, if you have a tip or want to brag about your new job, promotion, career milestone, or anything else, email me at [email protected] or find me on LinkedIn. I'm always happy to give credit to the many hard-working people here in our corner of the business universe