Compliance Jobs Report: May 6
Another week, another big Compliance Jobs Report. We have compliance officers coming or going at AB InBev, TikTok, Deutsche Bank, and others; also a bevy of promotions at American Express, Cardinal Health, LyondellBasell, and many more. Job leads this week are up and down the East Coast in biotech, insurance, and power equipment; and our Meme of the Week goes out to risk assessments.
As always, thank you to all the compliance people sending me tips and links to keep this report going. We need your help to make the Report work, so send me some news! If you have a tip to pass along, email me at [email protected] or find me on LinkedIn.
Compliance Jobs News
This week we begin in the world of beer: Matt Galvin has departed his job as global vice president for ethics and compliance at Anheuser-Busch InBev, to join Harvard Business School as a research fellow. Galvin says he'll be exploring how to use disruptive technologies (read: blockchain) to boost analytics of compliance data. (I interviewed Galvin back in 2019 about how he was using data analytics to enhance AB InBev's compliance program, if you'd like to know more about what he's doing.) 
TikTok, the online video sharing service for people younger than me, has hired Jenny Chung Savidge as head of legal compliance and data security for the United States. Savidge joins TikTok from data research firm IHS Markit, where she had been chief ethics, compliance, privacy, and risk officer since 2015.  
In London, Jaclyn Jewell has joined Hitachi Rail as chief compliance officer. Jewell joins Hitachi after seven years at General Electric in various compliance roles, most recently as global ombudsman and investigations leader for GE Energy. 
Down in Brazil, Leonardo Pinto has joined fintech startup Monolith ("Our goal is to pioneer making it easy, safe & fun to grow money") as risk and compliance director. Pinto comes to Monolith after five years as managing director at Go-Target Advisory, a consulting firm he ran in Sao Paolo. 
Erik Hauptvogel has left his job as ethics and compliance officer at Centrica Energy Trading, the Danish subsidiary of Centrica, which is based in London. No word yet on where he might go next, although Hauptvogel did say "a promising chapter is ahead." 
Base10 Genetics has hired Rick Burguières as director compliance. Burguières comes to Base10 from the delightfully named Care n' Care Insurance Company of North Carolina, where he had been senior compliance manager. 
Brandon Cooper has a new job; he has joined Deutsche Bank as global compliance curriculum lead and regional head of regulatory training. Cooper had previously worked as a solo compliance consultant in Florida. He'll be working from Deutsche Bank's big operations center in Jacksonville. 
Brandy Duso has joined Resilience, a biotech manufacturing firm headquartered in California, as director of compliance and risk. Duso previously worked at pharma manufacturing firm Seqirus as ethics and compliance officer for North America. 
In Switzerland, Vianney Trajin has been named interim chief compliance officer for Santander Wealth Management International (which he announced in French, so we should say il commence un nouveau poste.) Trajin joins Santander from EFG Private Bank, where he had been a private banking specialist. 
Also in Switzerland, Anna Kruzhilina has joined Idorsia Pharmaceuticals as a SOX compliance consultant. Kruzhilina previously worked at several other Swiss firms consulting on SOX and internal control issues. 
As promised, our bevy of promotions…
Johnson & Johnson has promoted Nicole Breza, from healthcare compliance manager to associate director and risk management lead. Breza has been with J&J for eight years. 
Michael Savicki has been promoted at American Express Global Business Travel, from chief privacy, compliance, risk, and ESG officer for the Americas to senior vice president and chief risk and compliance officer. Savicki has been with Amex since 2015.
Cardinal Health has promoted Stefano Tortis to head of international compliance. Tortis has been with Cardinal in various compliance roles since 2015, and previously had been global head of third-party intermediaries and EMEA compliance officer. He's based in Rome.  
Transportation and logistics company Geodis has promoted Marjorie Rossell Ortega to vice president of ethics and compliance for the Americas. Ortega had previously been Geodis' senior manager of ethics and compliance for Latin America. 
Deluxe Corp., the payments and IT services company based in Minnesota, has promoted Stephanie Gallagher from compliance officer to director of compliance. Deluxe also boosted the title of chief compliance officer Kortney Nordrum, elevating her to vice president. 
Reckitt, the British manufacturer of personal hygiene and cleaning products, has promoted Harvinder Kaur Hothi from global ethics and compliance manager to senior ethics and compliance manager. Hothi has been with Reckitt since 2020. 
Margaret Mousoudakis has been promoted to chief compliance officer at LyondellBasell, the Dutch chemicals conglomerate with U.S. headquarters in Houston; she starts her new role May 30. Mousoudakis has been assistant compliance officer at the company since 2015. She also says Lyondell is hiring for two compliance positions right now. 
And Rabo AgriFinance, a subsidiary of Rabobank, has promoted Edwin Hogans to chief compliance officer. Hogans has been with Rabo for four years, most recently as vice president of customer due diligence. 
Milestones
Wendy Fox is celebrating one year at JERA Americas (an oil & energy business) as compliance manager.
Kenneth Ray is celebrating one year at Hy Cite Enterprises, where he is director of third-party compliance.
Todd Anderson just hit five years as chief compliance officer at Allied Credit Union in Chicago. 
John Lazarine is celebrating five years as chief audit executive at University of Texas Health. 
Open Req Orders
Versant Health, a vision insurance company, is looking for a chief compliance and privacy officer. Job is remote, although Versant itself is headquartered in Maryland. 
Mitsubishi Power Americas is looking for a chief audit executive. Job is based in suburban Orlando, Fla.
Argenx, a biotech startup working on immunology products, is seeking a director of U.S. compliance. Job is based in Boston.
Compliance Meme of the Week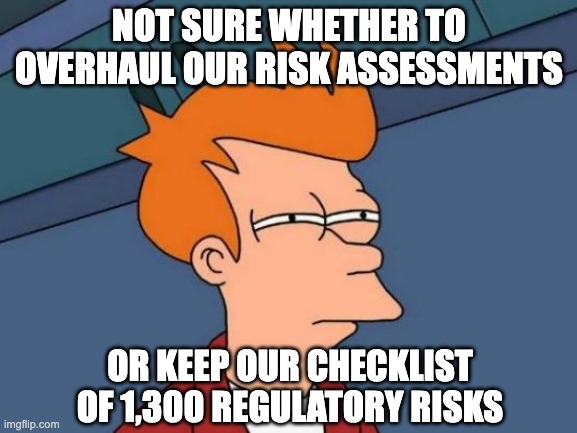 That's all for this week's report.
As always, if you have a tip or want to brag about your new job, promotion, career milestone, or anything else, email me at [email protected] or find me on LinkedIn. I'm always happy to give credit to the many hard-working people here in our corner of the business universe.